Rick Lewis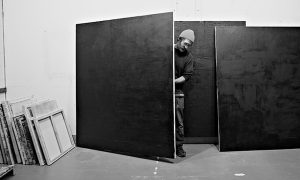 Rick Lewis was born in Lumberton, Texas in 1965. He received a Bachelor of Science in Graphic Design at Lamar University in Beaumont, Texas and completed an MFA at the University of North Texas in Denton in 1992.
Lewis works primarily as an abstract painter. Additionally, he incorporates drawing, printmaking, photography and sculpture into his studio practice.
He is represented in New York, Philadelphia, Texas, Hong Kong, and Indonesia. Upcoming exhibitions include shows in New York and Hong Kong in 2016. He is the recipient of the Carol Cook Memorial Foundation Arts Award for excellence in painting and artist in residency awards from the Millay Colony in Austerlitz, New York, the Bali Purnati Center for the Arts in Bali, Indonesia, Endless Editions in New York, New York, and the Edward F. Albee Foundation in Montauk, New York.
Rick Lewis' influences include Alberto Burri, Antoni Tapies, Texan visionary painter Forrest Bess, Paul Klee, Arte Povera, and Process art. His work is held in numerous public and private collections throughout the world. He currently lives and works in Brooklyn, New York.
Artist's Statement
Nature has always figured prominently in my work. Nature is beautiful, but it is also raw, unforgiving, and difficult. Humans are part of it. So in all of its forms, nature is a force to be reckoned with. I am not only speaking of nature in the sense of trees, grass, atmosphere, etc. Nature does not stop at the edge of a forest or the sea shore. Even in an urban environment, its life force is evident. A pile of soil and leaves on the sidewalk, an insect eaten tree, the bitter cold in a cobblestoned alley exemplify its beautiful intensity. My decades living and working in New York City have left their mark. The urban environment now figures as prominently in my aesthetic and provides metaphors and symbols as the forests and marshes of my youth did.
In my paintings, I add paint and collage and then use subtractive methods to excavate the surface in order to reveal the history of the object. Through an editorial process of layering and scraping back paint, my paintings become palimpsests that reveal the marks of experience.
I am interested in how a people, place, or moment comes to exist, decays, reemerges, and fades once again. Over time we develop a visage, our surface or our skin. The new skin that develops through process shows the patina of history and becomes the foundation for new experience.
All of my work incorporates a response to the landscape, a sense of the body, and its environment. I am not concerned with creating a specific image of place, but rather to evoke the physical and psychological perceptions that occur through a relationship with space and time.