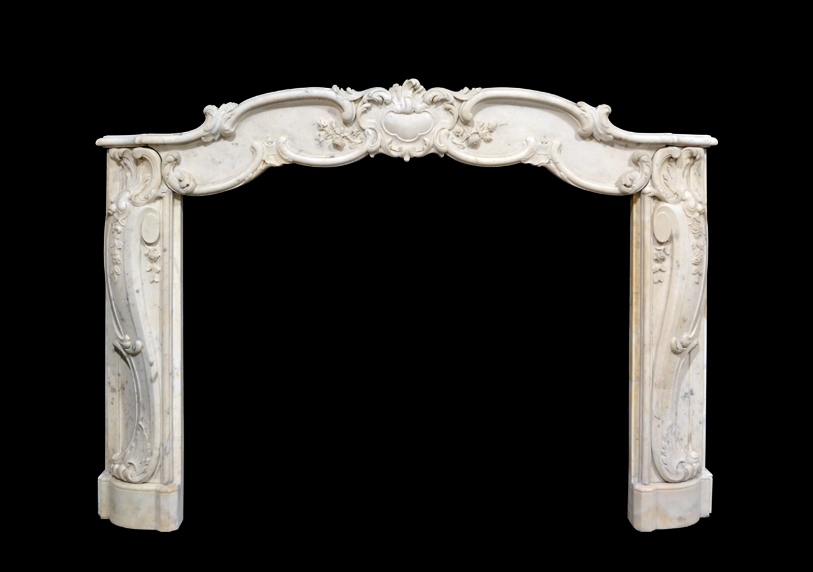 FR-ZF09
PRICE ON APPLICATION.
An early 19th century chimneypiece of generous proportions in the French Rococo style. Removed from No. 9 Stratford Place, London, which was constructed in the 1770s for Edward Stratford, later the Second Earl of Aldborough, who occupied the main house – Stratford House which was originally the site for The Lord Mayor of Londons Banqueting House, and is now the Oriental Club.
"Although Stratford House has some of the design Attributed to Robert Adam the Terrace that includes Nos 8 and 9 were designed by Richard Edwin and a later decorative scheme of some elaboration was incorporate into No. 9, where the first and second floors were refitted in the French rococo manner. This was probably done for Viscount and Viscountess Galway, who occupied the house for several years to 1910 and were connected with the Francophile circle around Edward VII; or for Josephine Williams, widow of the South Wales coal baron Morgan Williams of Aberpergwm, who next occupied the house until her death in 1928. Mrs Williams, born in Paris, was the daughter of the Monmouthshire landowner and art collector William Herbert of Clytha." – Excerpt from a paper by the Bartlett School of Architecture, UCL.
$94,000.00
Out of stock