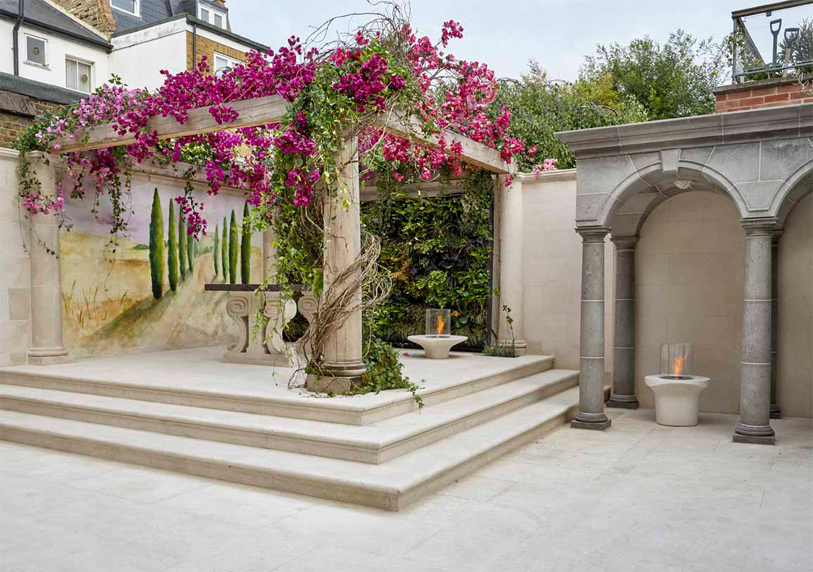 Chesneys introduces their architectural elemental garden
An insight into the carved stone pieces adorning the new courtyard garden at the architectural showroom
The courtyard garden situated behind Chesney's Architectural Showroom at 521 Battersea Park Road has been transformed by Chesney's Architectural Team into a spectacular space which demonstrates the team's skills in the design and manufacture of marble and stone creations for outdoor living areas. These include a breath-taking, life-size, rippling, sculptured torso of a Roman athlete, which stands proudly between two Italian terracotta planters, from each of which sprouts a noble Italian cypress tree.

A solid marble table designed by Chesney's in the manner of a Greek banquet table with hand carved corbeled legs, used for both work and entertaining, creates a focal point on the raised mezzanine under a cedar wood pergola of lavish foliage, bougain villea, vines and clematis. This is truly a Mediterranean oasis in the heart of London.
Tony Woods of Garden Club London has transformed the feature wall on the mezzanine into a lavish living wall, bursting with an array of blooms and vibrant foliage and his olive trees alongside the majestic stone portico create a perfect contrast between the form and contour of the arch and the organic shapes of the young trees. A Mature Olea Europea in unique verdigris glaze antique style pots has been under planted with Dwarf English Lavender and lends a distinct touch of the Mediterranean.
Under the pergola and adjacent to the living wall, further creating the dreamy atmosphere of rustic, matured, secret garden is a colourful but distressed mural painted by rising artist, Georgina Walton, depicting rolling Italian hills in the Tuscan countryside.
A lion's head fountain and bowl carved from Azul Valverde limestone is set into the solid limestone ashlar wall, and from its mouth a cascade of water can be heard on a hot day which soothes the senses even more. Adjacent to the fountain is a portico in solid Azul Viana limestone reminiscent of the walking colonnades of Bologna.

When the sun starts to set, the organically shaped, sculptural fires exclusively designed by Matthew Hilton for Chesney's are lit, providing warmth and a flickering light and the element for which Chesney's became best known.
This garden is a true combination of all the elements and is a testament to the varied skills that Chesney's is renowned for. An organic mix of fire, water, earth and air to create a tranquil haven of peace and beauty.
The garden is available to hire.