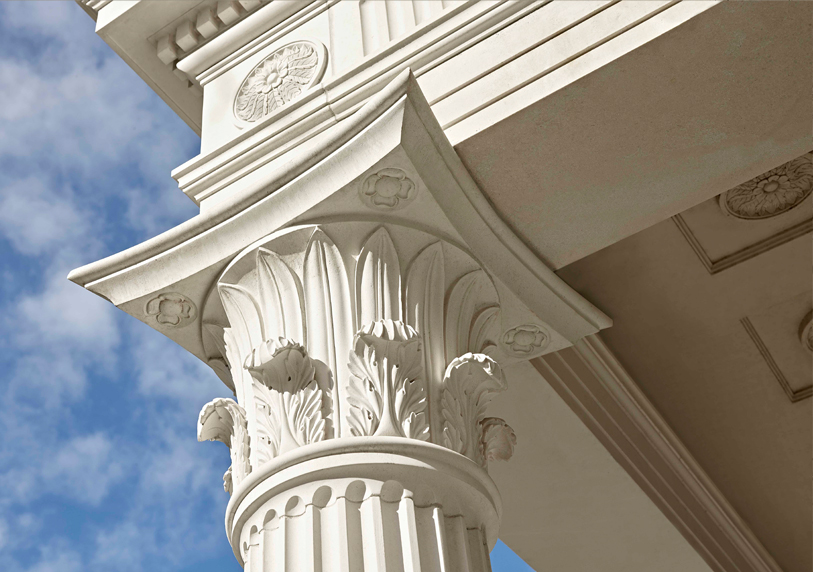 Central London Project
Taking inspiration from 'Tower of the Winds' erected in Athens around 100-50BC, this stunning landmark property in the heart of Central London is an impressive testament to the talents of the Chesneys Architectural Team.
Manufactured in limestone, the building features a magnificent portico with solid one piece fluted columns with intricately carved Corinthian capitals supporting a finely carved entablature and pediment with dentil embellishment, continued through the flanking cornice sections. Directly above the solid stone balcony sits a striking central window with engaged columns and Corinthian Capital blocks supporting the magnificent modillion pediment providing a pleasing architectural synthesis with the portico. Flanking corbelled door frames provide the finishing touches to the undoubted centrepiece of this building.
Progressing further up the building, simple window frames embody an architectural hierarchy that follows the preceding floors before reaching the magnificent layered frieze, entablature and cornice section which sits harmoniously at the top of the building. It is here that we see the building's primary architectural inspiration with a frieze of figures depicting the eight wind deities which are representations of those carved in relief on the Tower of the Winds in Athens.
Details
S.J.Henderson & Co are a well established force in the London construction industry with an impressive portfolio that spans intricate refurbishment, cutting edge design, luxury renovations and everything in between. For more information, please visit their website:
Material
Limestone
Contact
For more details, please contact our architectural office on 020 7978 7224 or email: architectural@chesneys.com.
Need help?
If you need more information or some assistance making a selection from our large range of products, don't hesitate to get in touch.